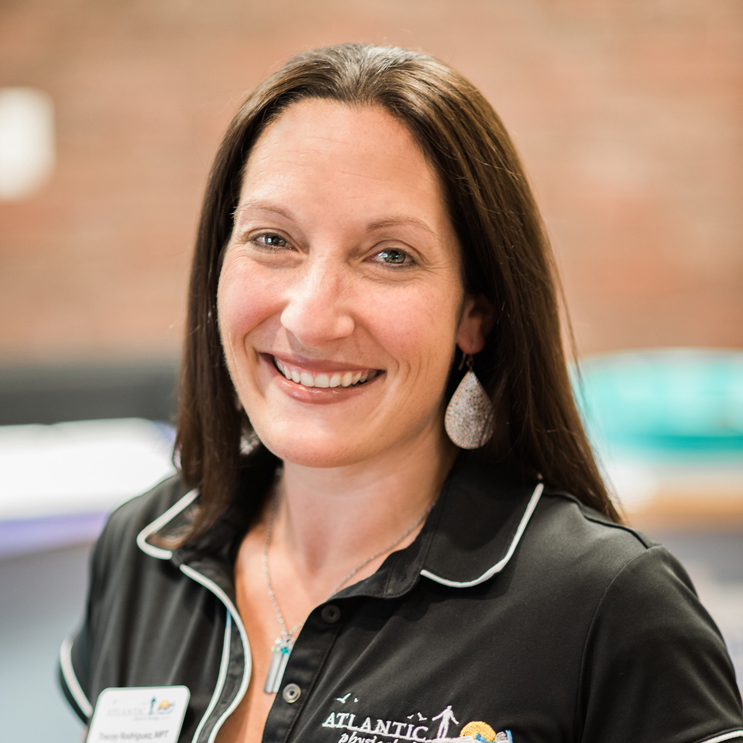 Tracey Rodriguez, PT, MPT
Clinic Director & Physical Therapist of the Lacey Location, LSVT BIG Certified
Tracey's interest in physical therapy started at a rather young age. When she was in 7th grade, she shadowed her older sister who was a physical therapist in Hackensack Hospital's outpatient facility. She witnessed her sister's interaction with her patients and the staff and saw that she was having fun while helping people get better at the same time. She fell in love with the profession that very first day.
She attended Syracuse University from 1997-2001 and then went to Graduate school from 2002-2004 at UMDNJ/Rutgers Camden for her Masters in Physical Therapy. She started working for Atlantic Physical Therapy Center in 2006 and is currently the director of the Lacey office.
Tracey has had to endure physical therapy as a patient twice before. In 2006 she had her ACL repaired on her left knee and in 2012 fell and fractured her distal radius on her right wrist and had to have to surgery to fix it. Both times she attended physical therapy with Atlantic Physical Therapy center entrusting her recovery to her co-workers.
Tracey's passion for her job stems from being able to witness a patient come in one their fist day in pain, having some aspect of their daily function or fitness/sport being compromised by their injury and then seeing them on their last day having returned to their prior level of function and health and walk out empowered to maintain what she was able to teach them. "What other profession can you laugh and talk all day, getting to know people on such a personal level and still help to get them better?".
Tracey is married to a fellow physical therapist, Roland, who happens to be the director of the Toms River location. They have two adorable children together and reside in Toms River, NJ.
Videos / Blogs Featuring Tracey
Lacey, NJ & Parkinsons Treatment Center
823 Lacey Rd.
Forked River, NJ 08731
609.693.5055