Functional Capacity Evaluations Case Study – Dancer S/P Multiple Trauma
History: The patient is a 19 year old professional dancer. He was struck by an automobile while crossing a street as a pedestrian. The resulting injuries were: fracture of the left tibia/fibula, mild left peroneal nerve injury, left ankle lateral collateral ligament sprain and lumbar sprain/strain. The tibia was reduced surgically, and an IM rod was implanted.
Four months post surgery, the question of returning to dance was considered. The patient was anxious to return to his profession. The surgeon was skeptical about safe return. To answer this delicate question, a performance analysis was ordered that included both the ballet positions 1-5 and a standard gait analysis.
Study: Gait analysis confirmed a left limping pattern with a shortened step length and reduced stance phase. Kinematic analysis revealed a slight left knee terminal extension deficient of 2-3 degrees. Force platform analysis revealed a deficient weight translation from left heel strike to forefoot push-off [Graph I – See Note].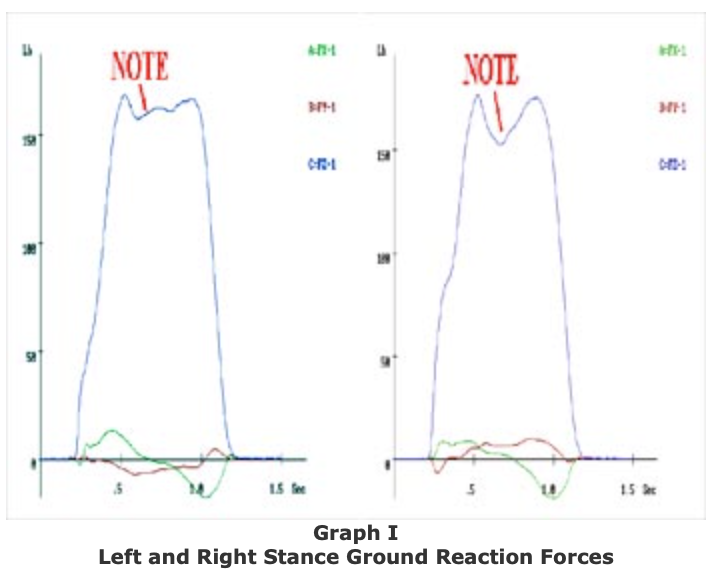 The patient was asked to attempt various ballet positions, while standing on the force platform. The object of analysis was to determine if he could obtain and sustain a balanced left to right posture for each position. The analysis method utilized was Center of Pressure (COP) [Graph II].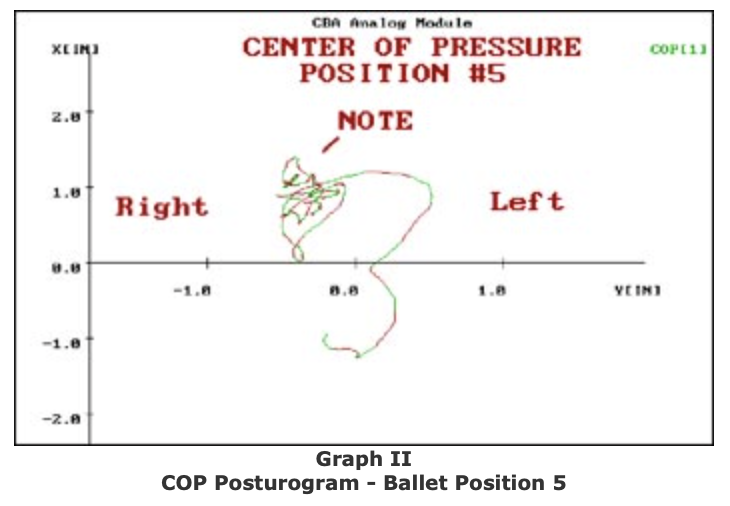 Analysis revealed the patient was unable to hold or maintain any of the five ballet positions in a centered balanced posture [Graph II, III and IV].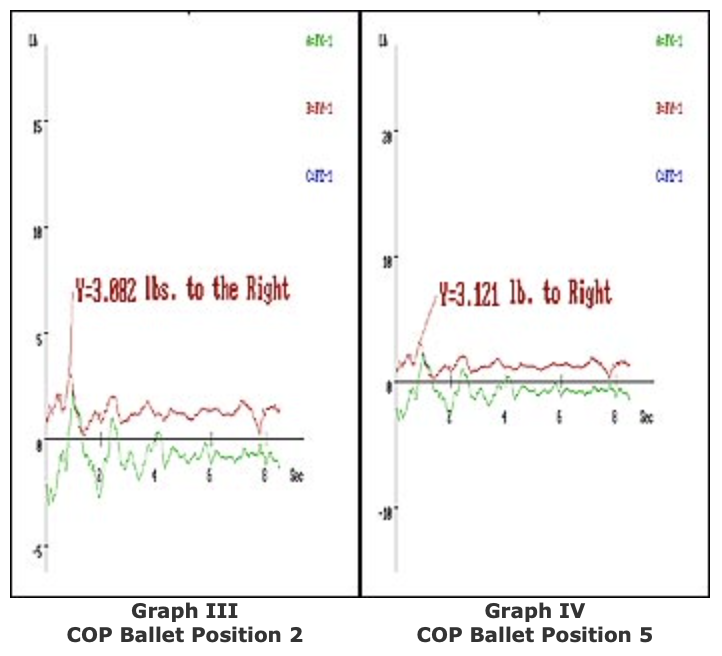 Impression: The kinematic gait analysis confirms continued gait asymmetry and left limb dysfunction. Kinetic balance posturogram during execution of standard ballet positions 1-5, confirms the patient is unable to perform any ballet position in a centered balanced posture. All five positions proved to be consistently skewed to the right.
Recommendation: The patient was deemed not ready to return to safe ballet training at this time. The patient needs to continue targeted rehabilitation until balance and gait are symmetrical.
Outcome: Return to professional dancing was postponed until a later date.
Call Us About an FCE at: 732-714-1907